NEWS
December Specials in the 4Story Shop
Events 01/12/2015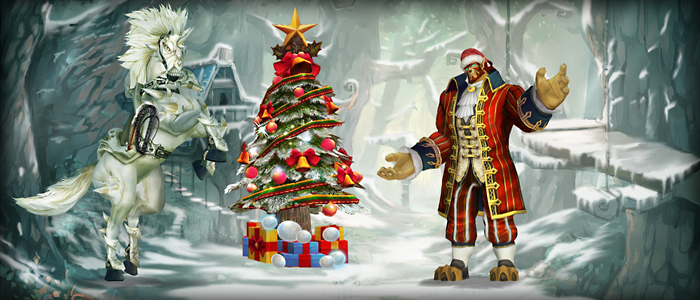 New goods have arrived to market! A caravan from the Highlands has appeared in Tebekut bearing Christmas goodies. As well as a range of mount packages you'll find the following items in our cash shop from 4/12/2014 until 7/1/2015:
White Majestic Horse (Permanent): The majestic horses of the Highlands are as white as the driven snow! Spring onto the back of one of these glorious rare beasts and charge into battle.
Gorilla (Permanent): This exotic mount from the heart of the jungle will carry you through Iberia on the wings of the wind.
Christmas Feline Bag: With a bit of luck you can pick up a Mighty Will to Live for your companion, a Serendipity Potion (300%), a Cash Gemstone and more.
Father Christmas Costume: Ho! Ho! Ho! Dress up ready to celebrate Christmas!
Christmas Feline Beanie: In cold weather like this the right headgear is a must.
Use this opportunity and treat yourself to a fun present for bonus points every day, and get your hands on one of the following items:
Survival Tincture
Mighty Spark of Life
Serendipity Potion (150%)
Potion of Recklessness (1 hour)
…and more!
In addition, monsters are more likely to drop Experience Blessings and Sparks of Life.
Of course we also have some eye candy of our own in store: our GMs will be there to lend a hand, all dressed up in festive clothes with Yuletide mounts.
Wishing you a peaceful time in Iberia,
The 4Story Team